Huasquila Lodge and community based tourism in the Amazon
September 16, 2018
Amazon is home to many different tourism initiatives. Huasquila Lodge combines reforestation and local development with sustainable tourism principles
Ecuadorian part of Amazon rainforest is home to different lodging and traveling facilities. Besides agriculture, tourism is the main economic activity in the region so it is no wander that various forms of entrepreneurship are present. Huasquila Amazon Lodge, located in the hills surrounding Tena and Cotundo, combines tourism with nature conservation and local development.
Lodge was established more than 10 years ago on land used for cattle breeding. Hacienda's profile at that moment was rapidly changed and main courses of action became reforestation, community and responsible tourism development. Reforestation activities were immediately appraised by local people who showed great interest to participate in the process. Thanks to joint efforts, more than 200 ha nowadays are reforested and rainforest covers again these hills. This process did not include only trees but many medicinal plants as well, who are part of local kichwa culture for centuries (kichwa is part of quechua language family, used in Inca empire). Growth of flora has led to the increase of fauna as well, bringing back many species of birds, small mammals and insects. This consequently produced effects on lodge itself which now adjusts parts of its constructions to the new conditions.
Currently, there are 20 cabins on the property. They include double, triple and family bungalows with ongoing project of villa construction which are rented on longer terms. All of them are built out of woods from this area and with a roof made with local plant paja toquilla which is now being substituted with alternative materials that fit perfectly in the surroundings and are more resistent. Seven of these 20 cabins are 100% accessible and that is one of the key features of Huasquila. Accessibility is not present only in the accommodation, but in all common areas (including swimming pool, bar and restaurant) with paved tracks interconnecting them. Moreover, two hiking trails are accessible as well and special wheelchairs are available, so that everyone can enjoy activities while staying here. Efforts and dedication to this market segment do not stop here – management has established a travel agency which is specialized in accessible tourism. "South America for all" was firstly distributing tours only in Ecuador but they have expanded their activities in other countries around the continent, currently offering tours in Peru and Argentina, too. Having in mind richness of the tourism offer in South America and difficulty to reach some of it, it is excellent to see that there is an agency providing solutions for people with reduced mobility.
Responsibility in all areas
Work with local kichwa communities is twofold. Firstly, they are involved in work around the lodge from the very beginning. Since 2005 they participate in all activities, being that reforestation, construction, cooking or maintenance. Furthermore, all guides are natives from the local communities and travelers have opportunity to learn from them about the use of medicinal plants, activities practiced in the forest and history of kichwa people. Besides being paid on a monthly basis, staff receive additional 10% of all sales as an extra income. Lodge employs workers both with full and part-time contracts giving them different possibilities and options.
On the other hand, lodge organizes visits to the nearby community Sacha Waysa. This community is composed of 18 families and 92 people. Their work in tourism has been mainly focused on tours and visits to their community but recently they have started providing lodging and opportunities for travelers to spend more time with them. During the visit, community members present their activities, dance, folklore, customs, food and clothing. Visitors receive clear insight into kichwa culture, preparation of traditional beverage "chicha", production of clothes and accessories and opportunity to participate in dance and music ceremony. Finally, special attention in these activities is given to the role of women and their contribution to tourism. In fact, women are the ones leading tourism activities in the community. Huasquila Lodge strongly supports women's rights and aims to provide chances for their equal involvement in working activities.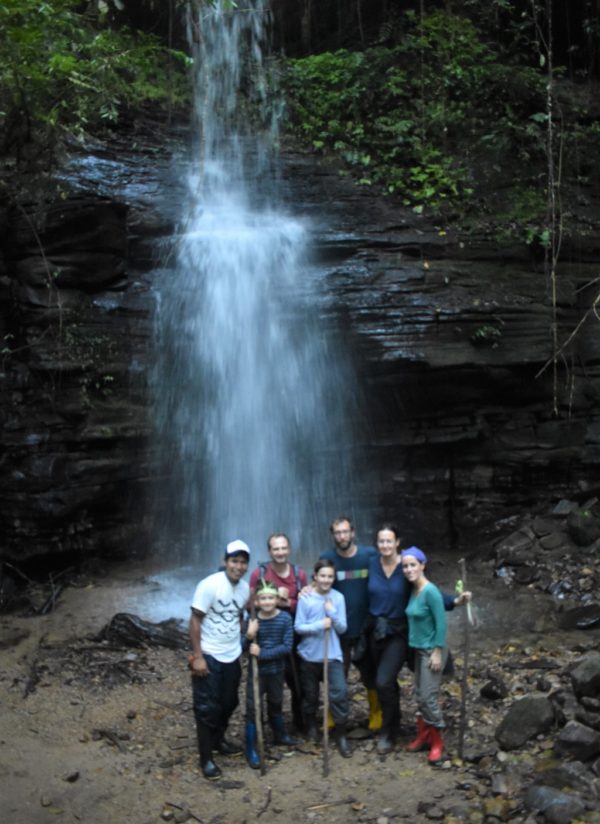 Education and preservation are not part of work with communities only, but with academic institutions, as well. For years Huasquila collaborates with different colleges and schools from Quito giving opportunity to children to spend time in nature and learn about flora and fauna in the Amazon. Moreover, Lodge successfully collaborates with Catholic University from Quito on preservation of bats population which is now, thanks to these efforts, no longer endangered species.
Environment protection follows the efforts made in previously mentioned areas. Lodge uses only LED lights and turns all lights down at 22.00. Plastics are almost not used while air conditioning or fans are completely absent. Non-organic waste is transported to nearby town of Tena where it is recycled while organic is decomposed on site. Grey water is handled on spot, too, and part of it is used to supply small lagoon in front of the lodge. Products used in the menu are all local and organic, while recipes are typical of the Amazonas.
All these efforts and activities have not passed unnoticed. Annual award "Latinoamerica verde" which praises solutions for sustainability in different areas and industries, nominated Huasquila lodge in the category of sustainable cities. Overall, they were ranked in the top 30 solutions among different nominees from all around South America. This contest proved that Huasquila is on the right track and that their achievements are appreciated both on national and international level.
Combination of reforestation with sustainable principles is not common solution in tourism and in the case of Huasquila Amazon Lodge it gives great results. Benefits are created for all sides involved, with various other possibilities that could be developed and built. Having incorporated all pillars of sustainable development into their everyday activities, they can expect bright future with more positive changes in the upcoming years. Finally, continuous improvement of the community-based tourism offer at Sacha Waysa proves that with the appropriate approach and help, indigenous communities can be correctly integrated in tourism activity and empower to develop their own projects.