CIDTUR and their role in the current Peruvian tourism development
October 8, 2018
CIDTUR is a non profit organization from Peru dedicated to the application of new technologies and innovation in tourism and its sustainable development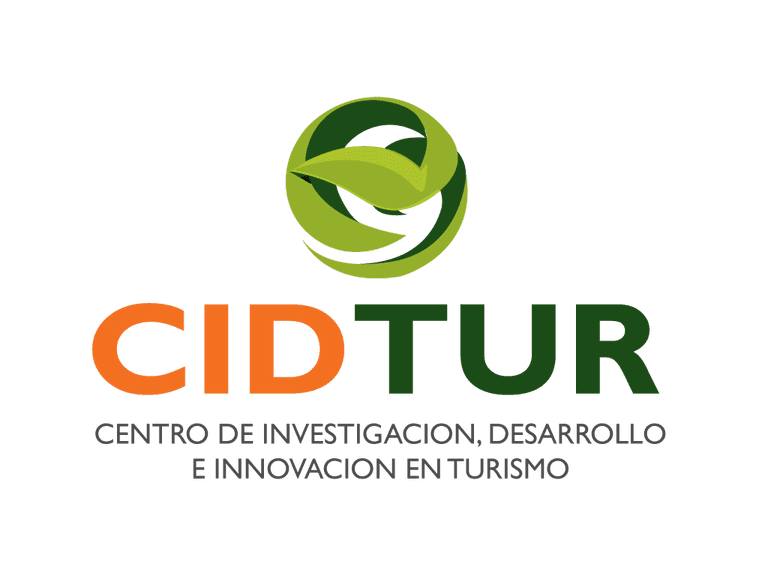 Tourism is one of the most important economic activities in Peru. In a country with population of almost 32 million people, tourism is one of the fastest growing sectors thanks to the rich heritage of Inca empire in all country. Sector's importance is subject of various analysis and organizations, both public and private. During our visit to Lima we had chance to collaborate with CIDTUR and participate in several of their activities.
CIDTUR – Centro de investigación, desarrollo e innovación en turismo (Center for research, development and innovation in tourism) was established in 2013 as a non-profit organization. Currently they account for 160 members, of which the majority are based in Peru. International cooperation plays important role in their profile and so far CIDTUR has presence and members in Spain, USA, Italy, UK, Germany, Australia, France, Serbia and India. This cooperation does not refer only to experts and individual members, but also to the collaboration with similar organizations, universities and other academic institutions. Some of the members belong to important international bodies such as UNWTO, GSTC and SEGITTUR.
Center was founded by Fernando Puente Zambrano who is institution's current executive director as well, tourism professional with more than 15 years of experience in the industry, private and public bodies. His vision is to make CIDTUR more proactive and present both nationally and internationally and, consequently, a more influential body within Peruvian and Latin American travel industry. Some of the most important objectives in the future are to open CIDTUR branch in Spain by 2021 and to establish a network of investors in innovation and development in tourism.
CIDTUR is active in different areas of research and development. In particular, they are concerned about sustainable development of travel industry and its impact on environment. They work as well on good practices applied in tourism and how they could be implemented in Peru. Innovation and smart tourism are highly present in their profile so they dedicate significant attention to the latest technologies used in tourism and their possible application in South America. In this process, they connect with various professionals from industry in order to provide updated and latest information. Finally, they focus on education and formation and provide opportunities for young people to learn and be updated about new trends in travel industry.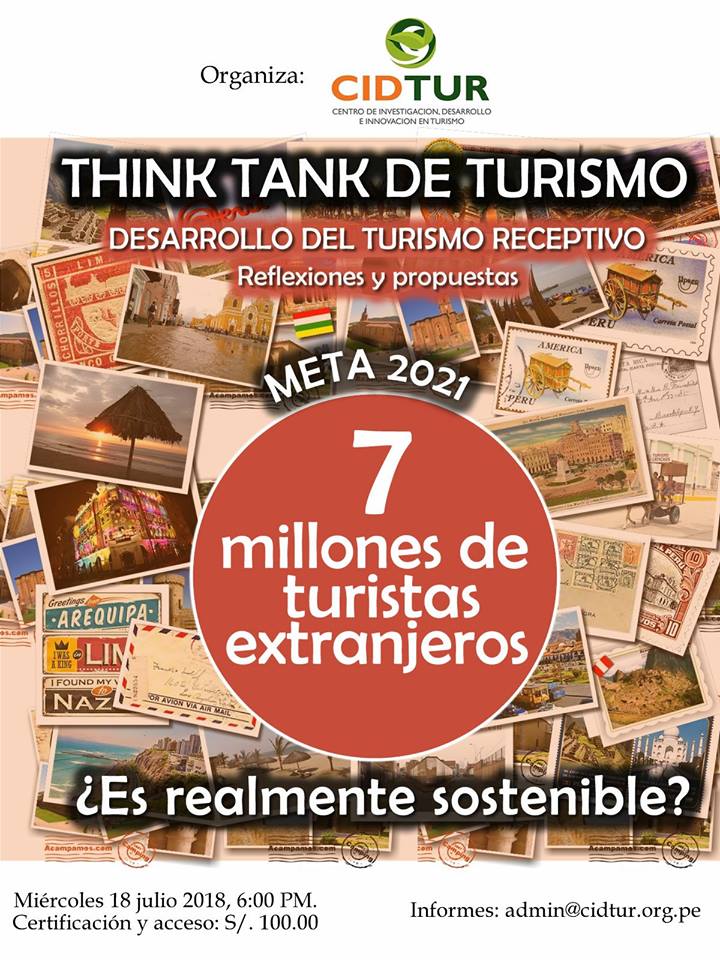 Another activity to stimulate debate in current Peruvian tourism environment are Think tanks, a format that has been introduced in Peru by CIDTUR. Firstly, tanks had a form of meetings and lately they have received an online format. They are organized nine times a year and each time CIDTUR chooses one particular topic which is then presented and later on analyzed and discussed by all participants. Think tanks are not only open for CIDTUR members but as well to other tourism professionals interested in the topics being analyzed. Plan is to build a network of participants in nine countries worldwide by 2021.
Principal aim of all their activities is to discuss issues present in the Peruvian tourism, propose ideas and solutions for these problems and work on the creation of better conditions within the industry. By doing so CIDTUR tries to influence current situation in Peru and ensures sustainable development in the future. Subjects analyzed so far were efficient management of Machu Picchu tourist arrivals, problems of mining in the area of the "rainbow mountain" Vinicunca, and negative impact of new port construction in the area of Paracas on the Pacific coast. One more question which is significantly important for them is the use of Qhapaq Ñan (network of roads in the Inca empire and UNESCO world heritage) in tourism. For this topic, Center collaborates with communities located on the route through debates and different types of analysis.
In completion of their activities and events, CIDTUR has created different bodies and committees, each related to different field of expertise. International forum for tourism – FINTUR is supported by important organizations on national level – Ministry of External Affairs and Tourism – MINCETUR, National Chamber for Tourism – CANATUR, Latin American federation of tourism cities and Association of tourism municipalities of Peru. Forum is then divided into sections according to the areas: FINTUR Green Edition; FINTUR Social tourism; FINTUR tourism governance; FINTUR DTI (Intelligent tourist destinations); FINTUR Culture, heritage and museums and regional FINTUR chapters for the North, South and Central Peru. Events organized within the forum gather between 150 and 400 participants from tourism and other sectors.
Last but not the least, there is Nacional Congress for research, development and innovation in tourism and an International conference of sustainable tourism and hospitality on the Pacific coast – CONTUR.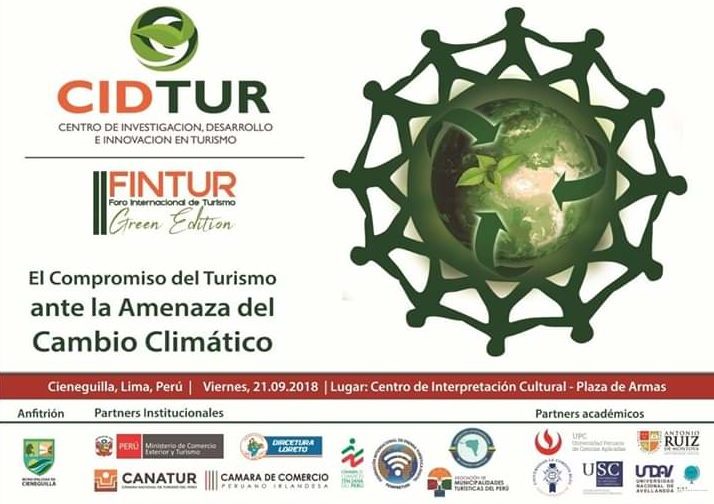 Educational part of Center's activities is achieved through different programs organized on various levels. HOTELTUR courses in the area of hospitality; regional and municipal seminars about tourism and seminars about certification by the Institute of the Integral Ecology (INECI). All of these are created with purpose to provide additional education in tourism and hospitality and knowledge for people who strive to develop career in travel industry.
Very often CIDTUR collaborates with other institutions and organizations. So far, they have collaborated successfully with already mentioned MINCETUR and CANATUR, different Peruvian universities, various municipalities around Peru, universities from other countries etc. With all of them Center searches for joint actions and efforts in different areas of tourism and hospitality. Many of these institutions are important on national or international level and make strong partner in Center's efforts to create a more responsible tourism sector in Perú.
Tourism environment is constantly changing and innovation and development will continue to have crucial role in the future. In the Peruvian travel industry there is still a lot of space for improvement and sustainable growth and CIDTUR's efforts will continue to create important impact in these areas. With their activities and opportunities, they are able to provide different benefits and help various stakeholders involved.